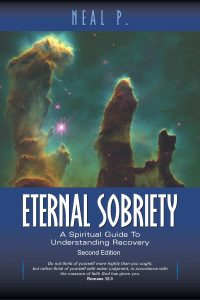 There are many aspects to recovery in the fellowship of Alcoholics Anonymous and other 12-Step programs. In the last several years there has been a proliferation of different recovery books covering everything from AA History – to books on how to work the twelve steps – to books that address anger, stress, co-dependence, – to books on approaches to spirituality – and more.
All add value to recovery but many of them leave us with a lean understanding of God, the most essential needed ingredient to obtain real peace, joy, and serenity in our life. This book is tailored to help the recovering alcoholic, active in a 12-step recovery program, understand more about the biblical God and the relationship God wants you to have with Him. The truth and wisdom found in this book will help you build a solid spiritual foundation for your recovery. It provides a way to discover the reality of the God of the Bible. Biblical truth is discussed in this book in a manner that compliments and enhances the selfless principles found in the 12-Step Alcoholics Anonymous program. New insights into major aspects of the AA program are brought to light using Biblical understanding. This book provides a closer look at the spiritual principles found in 12-Step recovery programs and provides truthful Biblical insight and visibility about the nature of God, the spiritual growth process, and His true will for us.
Here is what the publisher says you will find in this book.
In "Eternal Sobriety" A Spiritual Guide for Recovery, author Neal P. shows the parallelism between the successful workings of the Alcoholics Anonymous recovery program and God's Word. This inspirational work goes further to suggest that the spiritual journey is not complete for the recovering alcoholic until he achieve eternal sobriety. The path to this final achievement becomes evident through insightful exploration of God's whole truth. Learn about belief systems, principles, free will, choices, habits, emotions, self-control, the helper, how to get on the beam, prayer and meditation, and much more. If you are in a 12-Step program, find out how you can take the turning step that puts you on the fail-safe path for heaven. Your life will never be the same. If you are a pastor or minister and are trying to help someone in a 12-Step program understand how they need to embrace Christ as the "god of their understanding" this book can help.